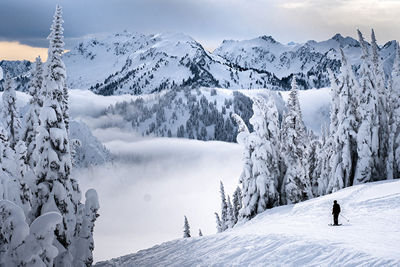 New Stevens Pass Express Shuttle
January's snowfall totals peaked at well over 200" and conditions are prime for experiencing Stevens Pass to the fullest. In order for our guests to have the experience of a lifetime, we're committed to making sure you arrive here safely and ready to enjoy all of the terrain Stevens has to offer. This commitment includes continued improvements to parking here at Stevens Pass and finding alternative ways to ensure our guests get to the mountain safely. Following up on that commitment to improvement, we're proud to announce the expansion of weekend shuttle services to Stevens Pass from Monroe.
This new Stevens Pass Express shuttle will eliminate the logistics of driving to Stevens, allowing each guest to focus on their skiing and riding experience, while curbing their carbon footprint and skipping parking their vehicle at the parking lot. The convenience of pick-up and drop-off is an opportunity guests will not want to miss.
Starline Luxury Coaches will provide weekend service from the parking lot of Monroe Plaza, departing at 7:30AM. Lot C is the pick-up and drop-off area for riders of the Monroe to Steven Pass shuttle. Loading for departure from Stevens Pass will start at 3:30 PM with the bus leaving at 4:00PM from Lot C. All riders should be back to the shuttle prior to the 4:00PM departure. The ticket cost for each rider is $20.00 plus tax and can be purchased at stevenspassexpress.com.
In addition to this new shuttle, we offer alternative transportation options, including the Stevens Pass/MTR Western Snow Bus, Jake's Highway 2 Sports shuttle, and more. If you choose to travel via personal vehicle, we highly encourage carpooling and on weekends we maintain dedicated carpool-only lots in lots A, B, and G.
We hope you take advantage of our expanded shuttle service and we'll look forward to seeing you on the mountain. Book your ride today!
Details
Provider: Starline Luxury Coaches
What: Shuttling to Stevens Pass from Monroe
Where Monroe Pick-up/Drop-off: Monroe Plaza
Morning Departure time: Saturday & Sunday, 7:30 am. Bus will begin loading at 7:00AM.
Departure from Stevens Pass to Monroe: 4:00 pm. Coach will begin loading at 3:30PM.
Pick-up / drop-off at Stevens Pass: Lot D, bus parking and drop off area
Key bus amenities: Restroom, Standard WiFi. High speed WiFi, TV and movies available for $5.00.
How to sign-up: Purchase a ticket at stevenspassexpress.com
Cost: $20
Service shuttle available: 2/15-2/16, 2/22-2/23, 2/29-3/1