If you've never mountain biked before, downhill biking can seem pretty intimidating. As long as you're comfortable riding a bike, you too can give downhill mountain biking a try. But it's important to get started right so here are some helpful tips to get you rolling down on two wheels safely.
Set yourself up for success by learning a few downhill techniques and tips with a lesson from a bike park instructor. With Bike Park 101, we help you have the best possible experience on the mountain.
Trail Levels
Downhill mountain biking involves a process of progression where you match your skill to the right trail. Our Trail Map shows the difficulty level from easiest to advanced. Work your way up to more advanced trails and features based on your progression, skill, and comfort level.
Understand there are also two types of trails as well: Freeride and Technical and both types range from Beginner to Expert.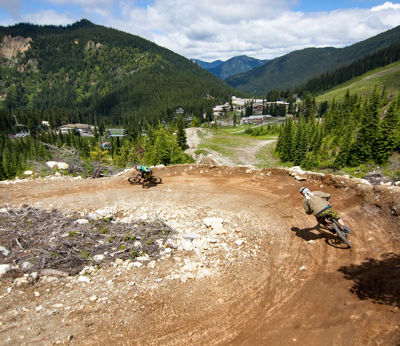 Freeride
Freeride trails are built by machines and contain man-made features including jumps, drops, gaps, wall rides, narrow surfaces, berms, and other natural or constructed features. Freeride trails are distinguished with an orange oval around the difficulty symbol.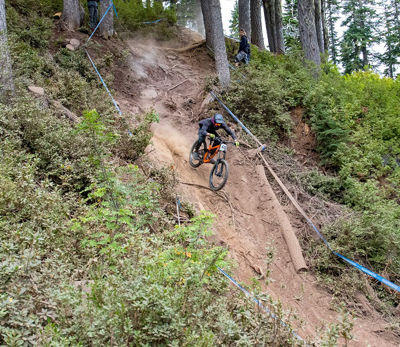 Technical
Technical trails are designed to embrace the rugged shape and terrain of the mountain, utilizing a majority of natural terrain features. Trails are typically hand-built and feature organic obstacles and stunts such as rocks, roots, logs, drops, jumps, and other natural or constructed features that require technical riding skills. Technical trails are identified by just their difficulty symbol.
Previous tab
Previous tab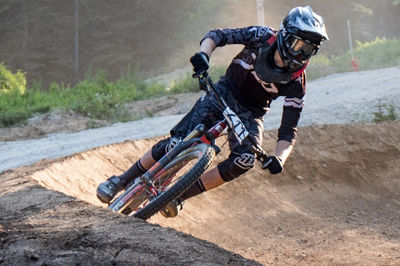 What to Wear
Protecting yourself from injury is the first step in a great day on the mountain. Safety begins with the following equipment.
Helmet (Mandatory) – A helmet is required for all riders in the bike park. We strongly recommend a full-face helmet to provide the greatest range of protection.
Elbow and Knee Pads – Provide protection from cuts, scrapes, and any impact to these parts of your body that are most common to be injured in a crash.
Closed-Toe Shoes – Shoes with a durable toe box and high ankle support are important to manage the rough terrain and impact.
Goggles – Wrap-around goggles are the best choice for eye protection against dirt, branches, and other obstacles you'll encounter on the trails or in a crash.
Full Finger Gloves – Use these to keep your hands on your bars with secure grip on your brakes. Your hands are typically first to support you in a crash so you want them covered up.
Body Armor – Optional for anyone who wants extra protection for your back and chest.
Neck Brace – Optional for anyone who wants extra neck support which typically is needed when hitting large jumps and drops.
What to Ride
Riding the Stevens Pass Bike Park is best enjoyed using a Mountain bike with full suspension. Riding a Downhill Mountain bike will make your day in the park safer and way more fun.
Our Stevens Pass Bike Shop has a variety of premium downhill rental bikes available to rent.
How to Ride Smart
Whether it's your first time in the park or it's your first lap, it's important to ride smart. Slow down before you speed up because crashes can happen often on your first lap. Ride a trail multiple times to get familiar with the features and equipment first so you can confidently push your limits without pushing your threshold. Use the pre-ride, re-ride, and free-ride system.
Warm up the brain and body and inspect the trail at low speed
Lap a trail a few times and get to know the flow of the features
Start small and work your way up to faster speeds and larger features
Mountain Biker's Responsibility Code
Mountain biking involves the risk of serious injury or crash. Your knowledge, decisions and actions contribute to your safety and that of others.
ALWAYS:
Stay in control. You are responsible for avoiding objects and people.
Know your limits. Ride within your ability. Start small and work your way up.
Protect yourself. Use an appropriate bike, helmet and protective equipment.
Inspect and maintain your equipment. Know your components and their operation prior to riding.
Be lift smart. Know how to load, ride and unload safely. Ask if you need help.
Inspect the trails and features. Conditions change constantly; plan and adjust your riding accordingly.
Obey signs and warnings. Stay on marked trails only. Keep off closed trails and features. Ride in the direction indicated.
Be visible. Do not stop where you obstruct a trail, feature, landing or are not visible.
Look out for others. Look both ways and yield when entering or crossing a road or trail. When overtaking, use caution and yield to those ahead.
Cooperate. If involved in or witness to an incident, identify yourself to staff.
Know and Follow the Code. It is Your Responsibility. Park privileges revoked for breach of the Code.