Whether you are looking for an outdoor adventure, family-friendly fun, or a chance to relax in one of Washington's most scenic mountains, we've got something for everyone. Don't miss out!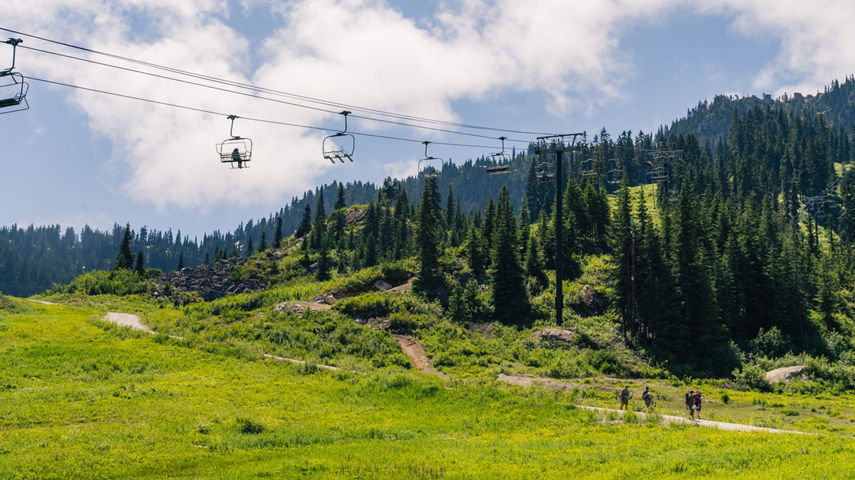 Mountain Stats
Physical Environment
Located on the crest of the Cascade Range, we receive abundant and frequent snowfall. Cool air often drifts from the eastern slope of the range through the Stevens Pass area, keeping our snow relatively dry. Stevens is located on two national forests, the Mt. Baker-Snoqualmie on the west side of the crest and the Wenatchee National Forest on the east. Our forested area is predominately Pacific Silver Fir, Mountain Hemlock, and Subalpine Fir, offering a visual treat when covered by fresh snowfall. The winter weather is usually comfortable, with temperatures often in the mid-twenties.
Snowfall & Terrain
Stevens averages 460" of snowfall each year, 105" of annual average snowpack, covering 1,125 acres of skiable terrain, including 52 major runs and numerous bowls, glades and faces.
Base area elevation 4,061'
Top elevation Cowboy Mountain 5,845'
Top elevation Big Chief Mountain 5,600'
Mill Valley base elevation 3,821'
1,800 vertical feet on three sides of two different mountains
Trail Difficulty
Beginner 11%
Intermediate 54%
Advanced 35%
Discover the best of the Cascades by RV Camping at Stevens. Enjoy easy access to Stevens Pass, Lake Wenatchee, Leavenworth, Index, and more. Visit our RV Camping page to book your stay!
It's the mountain guide in your pocket, now with even more features:
Interactive trail maps, with trail and grooming status
Real-time weather, snow totals and mountain cams
Your on-mountain GPS location and stat tracking
Resort updates and safety information
And more!