Prepare For Your Lesson
Arriving prepared for your lesson is key to maximizing your day on the slopes with your instructor. Below you can find information on where to go, what to expect, and what to bring.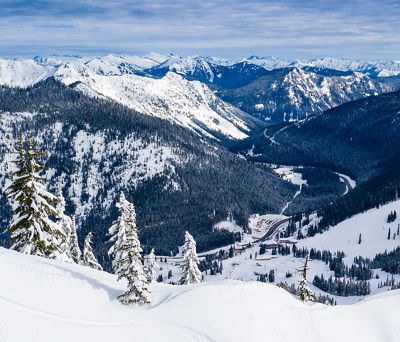 Where to Go
Check-in at least 30 minutes before the start of your lesson. If you arrive late and cannot complete check-in prior to the check-in end time, we may not be able to accommodate you in a lesson for that day.
If you are renting equipment, please arrive to park at least 90 minutes before the start of your lesson. check-in at least an hour before the start of your lesson. If you purchased a lift ticket or pass outside of a lesson, lift and rental bundle, please collect it before proceeding to your lesson meeting place.
WHERE TO CHECK-IN
If you are new to Stevens Pass, refer to our Winter Base Area Map for assistance.
Adult Group Lessons:

If renting equipment, head to the resort Rental Center in the Tye Creek Lodge first
Lessons meet outside, across from the Granite Peaks Lodge near the Ski and Snowboard School Building

Child Group Lessons:

For child rentals and lessons - check-in at the Ski & Snowboard Building Youth Programs facility facing the Daisy lift

Private Lessons:

If renting equipment, head to the resort Rental Center in the Tye Creek Lodge
Lessons meet outside the Private Lesson Office in the main plaza area
What To Expect
PREP FOR THE LESSON

Best pricing is available online, in advance. To book a group lesson within 24 hours or a private lesson within 48 hours, please visit one of our Ski & Snowboard sales locations or call ahead. Make sure all lesson participants your group have a pass or lift ticket and rent gear if needed. Our cancellation policy is available here.

Pass Holders purchasing group lessons online who are eligible for the Stevens Pass in-resort credit will have their credit applied automatically. If you do not wish to have your in-resort credit applied, please call us at (206) 812-7351 at least 48 hours before your lesson's scheduled start time. If you have any questions, please see our FAQ page.




EARLY IS ON TIME

Arrive to your lesson meeting area no later than 30 minutes before the lesson for check-in. Picking up rental gear? Arrive 60 minutes early for gear and check in.

CHECK-IN FOR THE DAY

Check-in for the lesson at the location noted in your pre-arrival email.

MEET OUR EXPERT INSTRUCTORS

Group lessons will be sorted by ability level. Child lessons will be sorted by ability, pace and age. The instructor will structure lessons based on individual needs and group goals.

CONQUER THE MOUNTAIN

Have fun exploring more of Stevens Pass by practicing new techniques. All full day lessons will include a break for lunch. A food option is provided for child group lessons, ONLY. Half-Day and bundled AM / PM lessons will not include lunch.

PICK UP YOUR ADVENTURER

At child drop-off, confirm your location and pick-up time. At child pick-up, the instructor will provide a summary of the lesson and your child's progress.
Gratuities: Instructor gratuity is at your discretion. Please note, a 15-20% gratuity based on the cost of the lesson will make your instructor feel very appreciated and valued.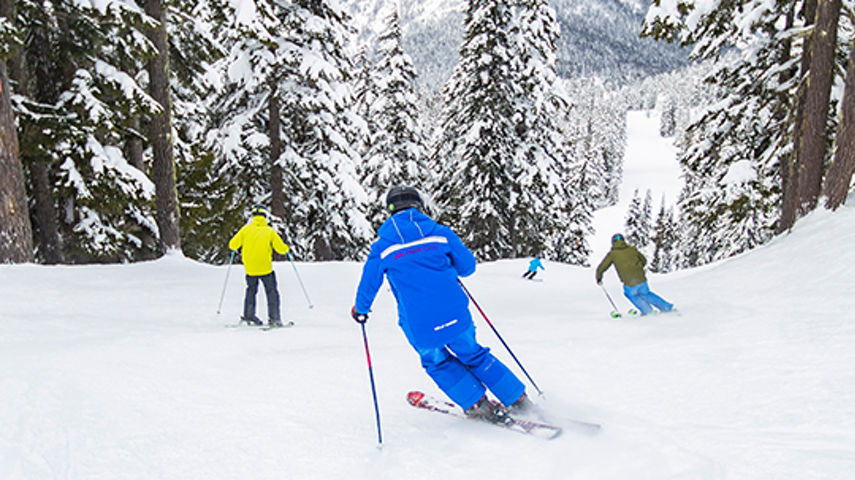 What to Bring
Helmet: The use of helmets is strongly recommended. Children age 14 and under must wear a winter sport protective helmet while participating in Ski & Snowboard School, subject to local regulations. In addition, children and teens under age 18 who participate in designated children's classes or programs must wear a helmet. Rental helmets are available at our children's locations for your convenience.
Warm clothes including moisture wicking base layers, mid layers to trap body heat, and water-resistant outerwear, warm calf-high socks, and gloves or mittens.
Goggles or sunglasses
Sunscreen is recommended, even on cloudy days.
Don't have your own gear? Rent with Stevens Pass and let our experts fit you with the best boots, skis or snowboard for your best day on the mountain.
Lift Access: All lesson participants must have a valid lift ticket or pass. Tickets can be purchased online with a group lesson package or separately here.
Ski & Snowboard School Frequently Asked Questions (FAQs)
What ski and snowboard lesson offerings will you provide this year at your resorts?
We are pleased to offer a range of ski and snowboard programming including group and private lessons as well as season long and specialty programs. Specific details can be found on our Ski and Snowboard School pages.
When will season long programs be available for enrollment?
Season long programs will be available for registration by mid-September.
What is included with a ski or snowboard lesson?
Each lesson will include professional instruction from one of our instructors. Full day lessons will include a break for lunch, and full day group lessons for children will include lunch. Participants will be responsible for bringing or purchasing their own food in private lessons, group lessons for adults, and season long and specialty lessons for children.
Do lessons Include rentals and lift tickets?
No, lessons do not include lift tickets or rentals. These items must be purchased separately, and all lessons require a valid lift ticket. While purchasing a group lesson, you can add-on lift tickets and rentals at a discounted rate. You may bring your own equipment. Passes are available to purchase here. Buy in advance and online for the best rates.
What should I bring to my lesson?
Weather conditions will vary and remember you will spend the day outside! We recommend dressing in layers including warm clothes, googles/sunglasses and sunscreen. For complete details on what to bring and where to go, read more here.
What if I have special needs or requests, e.g. Drug or Food Allergies?
While we do our best to accommodate dietary needs and offer different options whenever possible, severe allergy concerns or specific circumstances would be best discussed with the school staff directly prior to visiting.
Does my child need to be potty trained to participate in a lesson?
All children are required to be potty trained to participate in ski school lessons.
Will face coverings be required in Ski and Snowboard School this season?
No. Face coverings are not required to ski and snowboard, or in gondolas or indoor spaces at this time, unless required by local public health or CDC designation. This includes restaurants, lodging properties, restrooms, retail and rental locations, and base areas. Check local guidance for face covering requirements on buses and shuttles.
What is the cancellation and refund policy for Ski & Snowboard School lessons?
Changes or cancellations can be made in advance of your lesson date by contacting the Ski & Snowboard School conducting your lesson. A cancellation Fee will be assessed for a guest when they cancel either a Group or Private Lesson (1- and 2-hour Lessons, half day and full day) as follows:
Any Ski & Snowboard School Product that is cancelled prior to 48 hours of the lesson's start time will be issued a full refund.
Any Ski & Snowboard School Product that is cancelled within 48 hours of the lesson's start time will be charged the Cancellation Fee.
For Ski & Snowboard School Products that contain one lesson day, the Cancellation Fee is 50% of the cost of the lesson.
For Ski & Snowboard School Products that contain multiple lesson days, and a full Cancellation is required, the Cancellation Fee is 50% of the cost of the first lesson. All other days in a multiple lesson Ski & Ride School Product will be fully refunded.

Lessons are never cancelled due to weather while the resort is operational. For more detailed information on refunds and cancellations, please refer to the Terms of Sale.