Bike School
Stevens Pass Bike School offers guide service and lessons for all abilities of rider - from first time downhill mountain biker to advanced rider. We have lesson options for ages 7 and up!
Previous tab
Previous tab
Bike Park 101
Coming to Bike Park for the first time? Tried it a few times but still not quite feeling the flow? Our Bike Park 101 group lesson goes over all the essentials you need in handling the bike, finding your stance, and reading the terrain.
Who: Beginner & Novice Riders, All ages
Length: 2 hours
Dates: Thursday - Sunday
Start time: 10:00am & 2:00pm
Age
Rate
PACKAGE
(Ticket, Lesson, Rental)
13 and Over
$199
12 and Under
$175
LESSON ONLY
All Ages
$58
Private Lessons
*Stay tuned for information on private lessons for the 2022 season*
Private lessons are an option for all levels and ages of riders. In a private lesson setting, the coach can create a personalized learning environment for you maximizing your learning potential. Private lessons also offer an opportunity for groups to learn together. Advertised prices are for up to two people and for all ability levels. Add additional riders for $58 per person, per lesson up to a maximum of 4 people. Larger groups and other start times may be accommodated; ask for details when making your reservation! Private lessons do not include rental equipment or lift tickets.
Who: All ages, all abilities
Length: 2 hours
Dates: Thursday - Sunday
Start Times: 10:00am & 2:00pm
| | |
| --- | --- |
| 2 Hour Lesson Only for up to 2 People* | $159 |
*May add up to 2 additional people to a lesson at $58 per person.
TO BOOK A PRIVATE LESSON PLEASE CALL 206-812-4510 EXT. 4516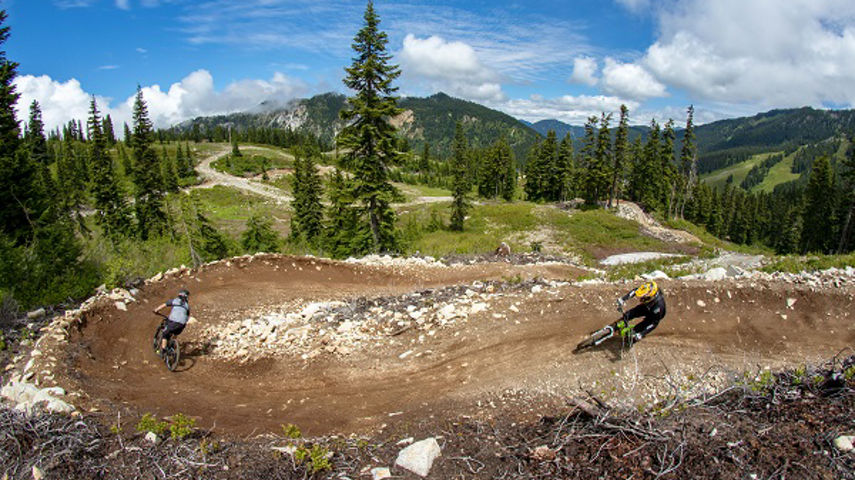 Before You Book
When registering for a LESSON or RENTAL please have the following information ready:
Date of Birth
Height
Weight
Ability Level
Emergency Contact
Allergies/Health Conditions
All lessons meet outside of the Tye Creek Lodge Rental Center.
All sessions meet 15 minutes prior to their designated start time unless otherwise noted.
Ability Level Guide
Please read through the following guidelines before signing up for your lesson. Knowing your ability levels help ensure the safest and most enjoyable experience possible.
BEGINNER RIDER
Riders are comfortable riding unassisted on paved paths and have some experience on dirt-roads or gravel bike paths with no experience in a DH mountain bike park, or not yet comfortable handling descending turns, rocks, and flat wood features.
Skills You Need: Average balance and control on a two-wheeled bike and confident using hand brakes.
Skills You'll Learn: You'll practice the braking, cornering, and body positioning you'll need to ride your first trail with confidence and good decision-making.
NOVICE RIDER
Riders have some experience in DH mountain bike parks, and are comfortable riding at slower speeds on green and blue flow trails. May have some experience on blue technical trails as well. May consider themselves an "intermediate" XC rider, comfortable on trail with easy gradients, roots, and rocks.
Skills You Need: Along with beginner skills, novice riders should feel comfortable standing on pedals, changing gears, cornering, and keeping confidence over flat rock/root sections.
Skills You'll Learn: Continued body positioning to ride terrain at faster speeds, riding shaped wood features, beginning steeper rock/root sections for technical blue trails.
INTERMEDIATE RIDER
Riders have DH Mountain Bike experience and confident on green and blue trails at Stevens Pass. Comfortable with descending turns, rolling over jumps, staying balanced over descending rock/root sections, and small drops. Can ride some black XC or technical single track.
Skills You Need: All beginner and novice skills along with confidence setting speed in corners and steeper sections of trail.
Skills You'll Learn: Looking for drop and jump safety, riding with more flow, and improving overall bike skills.
ADVANCED RIDER
Riders are comfortable on all blue trails with jumps and drops. May have mileage on black flow and technical trails, working to improve technique on black jump and drop features and find more fluidity on technical trails. Has high mileage and skills on most trails at Stevens Pass.
Skills You Need: Regular jumping and drop experience, can remain in balance, change gears, and brake at higher speeds on steeper terrain.
Skills You'll Learn: Ride smoothly at high speeds on steeper and rougher terrain. Clearing more jumps on black terrain, reading terrain and make decisions for riding at higher speeds.