COVID-19 GROUPS UPDATE:
Welcome to Stevens Pass group experiences. We are reimagining what we offer groups to prioritize the health and safety of our guests, employees and resort communities during COVID-19. Our website lists what was possible pre-pandemic, and what we hope will be possible in the future, post-pandemic. In the interim, please do reach out to us and we can discuss custom options for your group, wherever possible. We look forward to hearing from you and thank you for your patience during this time. Please contact us either by email or phone at groups@vailresorts.com or 970-754-0055.
Contact Group Sales
Our dedicated Group Sales and Services team members are here to help you plan and customize your unique group experience. Please call (206) 812-7844 or email us at
spgroups@vailresorts.com
with any questions. If you are calling from outside of the United States, please use +1 (206) 812-7844.
Previous tab
Previous tab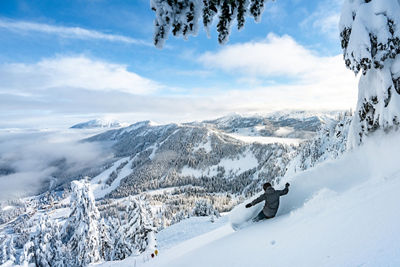 WINTER GROUP ACTIVITIES
Get your group together to ski Stevens Pass.
LIFT TICKETS: With the day group discount, you save on the adult and child window rates. We assist with determining your needs, compiling your order, and we work with you to have your mid-week (Monday-Friday) lift tickets available for pick-up, or mailed to you by request.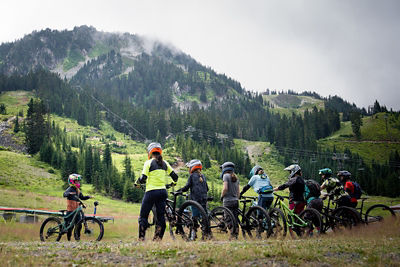 SUMMER GROUP DISCOUNTS
Visit Washington's only lift-served downhill mountain bike park this summer! Set in a spectacular alpine environment, your group is bound to have an experience of a lifetime!
Group rates are extended to groups of 10 or more who use one form of payment.
BIKE PARK TICKETS: Intense, fun, exhilarating, spectacular and serene—all great ways to describe downhill mountain biking at Stevens Pass! Bike Park Tickets include full day access to the pike bark, along with access to the Hogsback chairlift.
BIKE SCHOOL: We have lessons and camps available for all ages and ability levels. Taking a lesson is the best way to get the most out of your day. Let us help you become an extreme rider!
BIKE RENTALS: Want to try mountain biking but don't own a mountain bike? Look no further! Our Stevens Pass Bike Rental Shop has bikes available for those of all sizes. Booking bike rentals through our Group Sales team allows you to conveniently book the equipment you need online in advance.
SCENIC CHAIRLIFT RIDES: Take a scenic ride on the Skyline chairlift and get a different perspective of Stevens Pass. Hike the trails, have a picnic, take some photos, and enjoy the view! You'll be able to hike all the way down, or ride the lift back down when you are done.