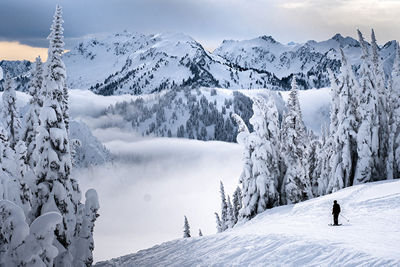 Hello and happy Friday! Here's today's update:
Conditions: The rain turned over to snow yesterday afternoon, and I'm glad to report that we've gotten about 4" since then. Fingers crossed it keeps falling! By the way – know many of you have flagged the issue on our website with our incorrect snow totals…this is now fixed.
Operations: Today was a big one for lift operations training – we had 9 team members trained to help spin our lifts. This will continue tomorrow, with more team members getting trained on lift ops, and with the added support of two Heavenly Lift Ops leaders who arrive tonight. As I mentioned yesterday, Kehr's chair tomorrow should be set to open for the weekends, and Showcase and a few TBD passes on I-5 will be groomed. Importantly, we will be prepping ramps on Jupiter early next week, and will be grooming Gemini Run for next weekend. This means we have 8 lifts on the weekends and a lot more terrain. As new team members are brought on and trained, our priority will be opening the backside additional days with Southern Cross/Double Diamond to follow.
We continue to see amazing comments about Ellen! I'm glad to say she'll be with us one more day in the lift maze tomorrow – we're so appreciative of all she does and the connections she's made with many of you. Also, a few people asked about Dudley's from my post yesterday. That is the name of the ski patrol and lift shack at the top of Double Diamond/Southern Cross chairs. Dudley was one of the original surveyors and mountain planners at Stevens Pass…way back when.
Until tomorrow…
-Tom