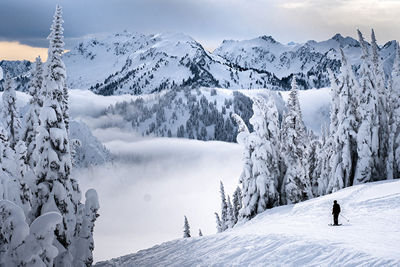 Hello, all – happy weekend! A few notes as we head into the President's Day holiday period:
Lifts/Terrain: As I shared earlier this week, Southern Cross, Jupiter, and Tye Mill will spin 7 days/week, beginning today. We'll still have Kehr's Chair on weekends, but you can access that same terrain from Southern Cross when Kehr's isn't open. We are really excited about this progress, and based on how things are shaping up, it's looking like we'll have all 10 lifts spinning every day by Feb. 26 (next weekend).
General Reminders: With the holiday weekend here, we anticipate things to be particularly busy, so please make sure you plan ahead: arrive early (or after 1pm), as parking fills quickly – of course we always encourage carpooling, too; remember to please exercise patience and kindness when on mountain, and know we're doing all we can to ensure a great experience for you!
Night Ops: We continue to work towards opening more terrain at night, including some creative scheduling to keep Skyline + Kehr's open later into the evening. We know this means a lot to many of you, and we're working towards addressing it as best we can given current staffing and schedules. This is important for us, too, and want to ensure we have plenty of night terrain in the future.
Nordic Center: Our specialized Nordic snowcat that supports specific grooming is currently in need of repairs – we're working on it ASAP. In the meantime, we are bringing an alpine groomer down from the summit to the Nordic Center each night. We will have Mainline groomed freshly each day, and all other trails are skiable, but will have some icy patches. I'll share an update when we've got an ETA on timeline to complete the necessary repairs, but we have a good solution in place while the Nordic cat is temporarily down. For the Nordic skiing community who utilizes these trails, we appreciate your understanding and patience.
I look forward to another great weekend (and holiday) ahead – if you see me out there, make sure to say hi!
Talk soon,
-Tom