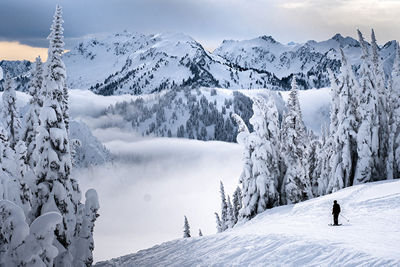 Early memories of skiing are intrinsically tied to the ride back up the mountain. At first, loading and unloading from chairs can feel more daunting than the descent, and it takes time to appreciate the ride for the reliable, social setting that it is. Ask a life-long skier and they will almost always have a distinct memory from a beginner lift on the mountain, a product of the confidence building process one goes through that forms a base of understanding for all other experiences on mountain.
Daisy and Brooks chairlifts access some of the best learning terrain on the mountain and are where many of these memories reside for guests. For our returning guests, there will be dramatic improvements in lift queues and dispersion of intermediate riders. Guests will be able to share experiences riding as a family facilitated by four seater chairs. For youth and those just starting out at Stevens Pass, the 100% improvement in uphill capacity for Brooks and 33% improvement in capacity for Daisy will be the norm.
As progress is made throughout the summer, we will add updates with photo and video coverage. The construction will be done in conjunction with our summer operations running Hogsback Express to service the Bike Park, disc golf course and scenic rides. Stay tuned for more!
Brooks Bash on December 21, 2019
This day will include a free give out to the first 500 chair riders on Brooks Express & our newly upgraded Daisy Chair, plus prizes and a scavenger hunt throughout the day kicking off the start of our night operations. Come meet our newest Sasquatch friends!