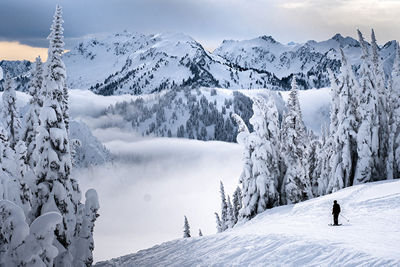 Stevens Pass Community,
I am glad to be coming home, even if just temporarily, to support this period of transition at Stevens Pass.
I grew up at Stevens Pass and my ski career started here, too. My three boys have grown up at this mountain and also call it home. I worked my way through the ranks for 20 years (I have the photo to prove it, see below), ultimately leaving in 1999, having served as Director of Operations. Since then, I have been lucky enough to manage a number of amazing resorts across the western United States, gaining new insight and experience along the way. This includes time at Schweitzer Mountain in Idaho as GM, followed by moving to the Tahoe area in 2010, where I've held several senior operations roles at both Heavenly and Kirkwood. In 2016, I proudly became the GM of Kirkwood, and three years later, I began serving in my current role as GM at Heavenly.
I understand how special Stevens Pass is. I also know many of you are frustrated – and we've heard you. I'm taking an interim GM assignment here to support operational improvement, work towards getting the mountain open as quickly and safely as possible, and to positively change your experience with us.
Stevens Pass is a complex operation…it always has been. That means change will not happen overnight, but I am committed to securing both short-term wins and outlining a long-term roadmap of improvement. With that in mind, I am committed to communicating often, and with transparency.
My history and passion may be relevant, but what really matters today is moving forward.
I am excited to reconnect with friends from the past, and to make new ones on the hill. And most importantly, we want to see SPKA!
See you on the mountain,
Tom Fortune