Nordic Center at Stevens Pass
DISCOVER MORE OF STEVENS PASS AND EXPLORE MORE OF THE BEAUTIFUL CASCADES
The Stevens Pass Nordic Center is located just 5 miles east of the pass in Mill Valley. Mill Valley is the quiet side of Stevens Pass and a friendly place to explore nature's winter wonder. Our lodge, the Cascade Depot is your base camp for adventure offering rentals, lessons, tasty snacks and some good old mountain hospitality.
Mill Valley is filled with natural wonders and steeped in human history. From 1925 to 1929 the builders of the Cascade Tunnel called Mill Valley home. Several hundred men, many with families in tow, lived rugged lives in wooden shacks during construction of the seven mile long railroad tunnel. The tunnel builders and their town may be gone, but the story of adventure continues. Our groomed ski trails and stomped snowshoe trails are your path to exploring the scenic beauty and the amazing history of Stevens Pass.
Don't forget, your Epic Pass includes access to all Stevens Pass Nordic trails!
Opening and closing times may change throughout the season. For the most up to date information view our Hours of Operation page.
Nordic Center Parking
Parking is free for all users.
Winter adventurers not using Stevens Pass Nordic Center Nordic trails are encouraged to park in the outer lot.
The gated inner lot is locked at 4pm.
Stevens Pass Nordic Center Nordic Trails and Snowshoe trails are for ticketed Nordic skiers only.
Previous tab
Previous tab
Nordic Lessons
First Time Nordic Classic or Nordic Skate lessons - 3hrs

10:00am start for ages 12 and under
11:00am start for ages 13+

First Time Nordic Skate lessons - 3hrs

1:00pm start for ages 13+ pm
For new challenges and more rewards!

Take advantage of our First Time Classic package and our First Time Skate package to save money and get you set up with the right equipment. Packages include rentals, lesson and a trail pass. Book online and save time!
All of our lessons will have a maximum class size of six so our instructors can ensure that you get the best experience.
NORDIC PRIVATE LESSONS
Our private lessons are individualized focusing on your specific goals.
Max group size: ­­­­6
PSIA certified instructors
Private Family lessons available too! A great option for enjoying the experience together as a family under the guidance of our amazing Nordic staff.
Private lessons are booked by calling in advance or in person at the Cascade Depot (depending on availability.)
Nordic Center Dining
The Cascade Depot offers grab and go snacks and a selection of beverages. We do not currently offer hot food service, but we can fill your pack with trail goodies. Be sure to drop in for a hot drink to warm up or a cold beer to relax at the end of a great day.
Nordic and Snowshoe Rentals
We have you covered when it comes to the right gear for exploring winter. We have Nordic rentals for both classic and skate skiing as well as snowshoes and pulk rentals.
At this time we are unable to make rental only reservations. Arrive early to ensure availability.
We will hold equipment for First Time Classic Package and First Time Skate Package lessons booked online at least 24 hours in advance.
Sledding and Snow Play
Yes you can!
FREE with no charge for parking! Stop by the Cascade Depot for a tasty treats, friendly faces and indoor plumbing!
Sledding and tubing on our groomed sledding hill. Plastic sleds and tubes only, NO metal edged equipment allowed on the groomed sliding hill. No skis, snowboards or metal edged sleds or toboggans
Do not use Nordic Center trails for snow play, sledding or back country access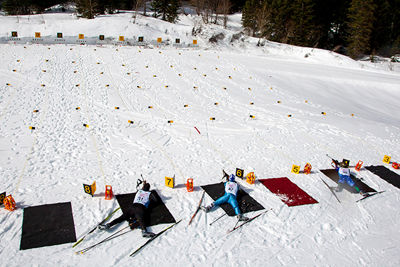 Biathlon Events at the Nordic Center
Biathlon is a sport in which participants combine cross-country skiing with rifle marksmanship. In competition biathlon is performed using skate skiing technique and 22-caliber rifles. Participants skate a ski loop, fire five rounds at a biathlon target and head off again around the ski loop.
We are very excited to welcome the Washington Biathlon Association back to Stevens Pass! Come enjoy these competitive events as a spectator or join in the fun by taking a Biathlon safety course through the WBA.
Ongoing information can be found at the Washington Biathlon Association www.washingtonbiathlon.org.