Nordic Center at Stevens Pass
NORDIC CONDITIONS
THURSDAY- Rain before 1pm, then a chance of rain and snow between 1pm and 2pm, then snow after 2pm.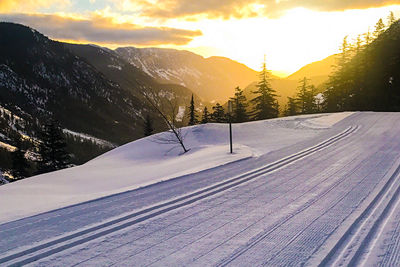 Discover a new way to experience the cascades
Nordic Skiing and Snowshoeing                                   
The Stevens Pass Nordic Center is located in lower Mill Valley just five miles east of Stevens Pass. Over 100 years ago the builders of the Cascade tunnel called Mill Valley home. The camp may be gone, but the majesty of Mill Valley remains. Come explore 30 kilometers of groomed cross country trails and 10 kilometers of marked snowshoe trails. With a cozy lodge, friendly people and an amazing setting, the Stevens Pass Nordic Center offers natural outdoor fun for the whole family.
Nordic Center access is FREE for Epic Pass holders.
Opening and closing times may change throughout the season. For the most up to date information view our Hours of Operation page.
View Current Hours
Our Commitment to Safety at the Nordic Center
What you need to know
The team at the Stevens Pass Nordic Center is excited to invite all of you back into our home. The Cascade Depot will be open this season with limited indoor seating and food and beverage service. Our team will be masking up indoors for your safety and all of our staff is vaccinated. We look forward to sharing cold groomed trails, warm welcomes and hot cocoa with all of you.
This season, our unrivaled commitment to safety continues. Check below for more specific details and activities:
Previous tab
Previous tab
Safety and Trail Access
Face coverings will be required in all indoor spaces.
For your safety, all transactions will be cashless at all points of sale.
Employees are required to show proof of vaccination, undergo daily health screenings and receive appropriate training on company protocols and procedures.
Employees are required to wear face coverings, regularly wash their hands and stay home if sick.
High-touch surfaces and restrooms will be frequently cleaned and disinfected with EPA-approved products that kill the COVID-19 virus.
Hand sanitizing stations will be provided throughout the area.
Nordic Lessons
We offer Nordic Classic lessons at 11am (perfect for beginners) and Nordic Skate lessons at 1pm. Our new Youth First Time Classic at 10 am is a perfect way to get the excitement started early.
All lessons will have a maximum class size of ten.
Self-Health Screenings will be required to be completed by all participants within 24 hours of each lesson. Employees are required to undergo daily health screenings, wear face coverings, regularly wash their hands, show proof of vaccination and stay home if feeling sick. If you have a minor in a lesson, please review the Child Sickness Policy.
All lessons will meet outdoors.
Nordic Center Dining
Indoor dining is available.
We will be managing capacity at the entrances and limited indoor seating is available.
Face coverings will be required indoors.
Nordic and Snowshoe Rentals
We will offer Nordic, Skate and Snowshoe rentals.
We will manage the number of people in our rental location in accordance with local regulations.
Face coverings will be required at all indoor locations.
Employees will take additional precautions during portions of the process that require close interactions with guests.
Equipment will be fully sanitized between each guest use.
Sledding and Snow Play
Our sledding area is open for the 2021-22 season!
Parking is limited and the sledding hill is first come first served.
We recommend following social distancing protocols and wearing a mask when social distancing is not possible.
All snow players are welcome in the Cascade Depot. Drop in for a snack and a hot cocoa!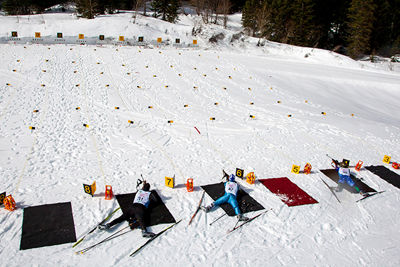 Biathlon Events at the Nordic Center
Biathlon is a sport in which participants combine cross-country skiing with rifle marksmanship. In competition biathlon is performed using skate skiing technique and 22-caliber rifles. Participants skate a ski loop, fire five rounds at a biathlon target and head off again around the ski loop.
We are very excited to welcome the Washington Biathlon Association back to Stevens Pass! Come enjoy these competitive events as a spectator or join in the fun by taking a Biathlon safety course through the WBA.
Ongoing information can be found at the Washington Biathlon Association www.wabiathlon.org.